Want to know more about exceptional artist and illustrator, Yuki Osada? Read on to discover more about her inspirations, her work, and what she's up to.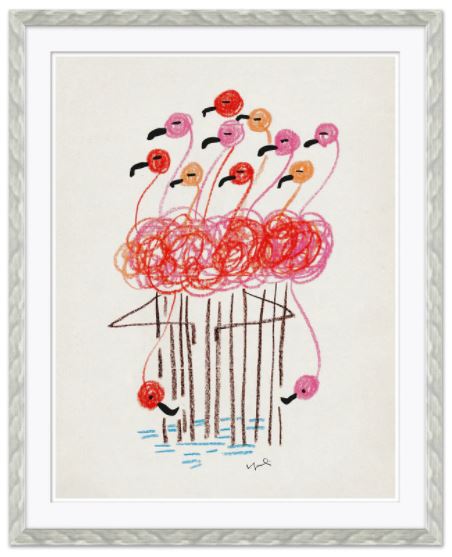 Yuki Osada is a well-known CAD designer, graphic artist, and illustrator currently based in the Florida area, she is probably best known for her distinctive Giclee prints, but she is definitely an artist who doesn't limit herself to one medium, producing prints on everything from pillowcases to greetings cards. With a passion for getting her hands dirty whether with screen-printing, fashion and reportage illustrations, or pen and ink drawings, Yuki's work will frequently surprise and delight you in equal measure. In recent times, she has been working to expand her great love for graphic design and typography.
Mediums She Works In
Yuki Osada is a professional artist with experience in the home furnishing and apparel industries, in which she has worked for over a decade. The mediums she works in include:
CAD
Textile design
Graphic design
Illustration
Pen and ink
Screenprinting
Special techniques she uses
Yuki Osada specializes in conversational print and design. A conversational is a novelty print that usually features a recognizable subject such as an animal, a vase, a pair of spectacles, or a toy dinosaur - basically, it can focus on any object that is familiar to the average person, but it will typically do so in a quirky or unusual manner such as having a cucumber wear glasses or a dog riding a motor scooter (something Yuki is particularly fond of as witnessed in her many mod-culture inspired animal prints). Conversational pieces are meant to be fun and a little bit frivolous, and Yuki certainly infuses a unique spirit of joy and conviviality into her own creations, not to mention bags of energy too.
As well as specializing in conversation print and design, Yuki has more than 10 years' experience in developing print and apparel graphic design, as well as retail design, where she has worked on projects as diverse as handbag design and homeware collections. Her educational background is in Illustration and Design, for which she has a BFA from Parsons The New School for Design.
Key Themes in Her Work
If you take a look at Yuki Osada art, a few key themes will immediately become apparent to you, and perhaps, the theme that most immediately screams out at you when you view her stuff is whimsy; her prints have whimsy by the bucketload. They also have dogs. Lots of dogs doing a lot of interesting things, often with more than a hint of mod style and a whole load of Parisian whimsical attitude. They're charming, modern, and full of fun, which is exactly what you would expect from a great conversational artist like Yuki Osada. Oh, and they don't just feature dogs either; her subjects span the breadth of life from rabbits and cats to anthropomorphic pickles and potatoes too, which means there is literally something for everyone to enjoy in her work, no matter what their tastes may be.
If you could sum up the themes in her work you'd probably go for:
Whimsy
Anthropomorphisation
Parisian chic
Pop culture
Conversational art
Color
Energy
Joy
Images as stories
As to what Yuki wants to accomplish with her art? As well as bringing a little more joy to the world, she definitely has a passion for working with children. Yuki wants to reach the younger generation with her illustration work, which is perhaps most notable in the form of the artwork she produced for the fantastic children's book 'The Monkey Balloon,' a wonderfully illustrated book that helps kids improve their speech and language via the exciting journey of one child and her search for a lost balloon.
Yuki believes that messages can be more powerful when they're delivered visually, which is why you can always decipher a strong narrative in her work. Yuki may primarily be an artist, but she is also a storyteller and a very effective one at that.
Showing History
Although Yuki Osada does not yet have a significant showing history, in the formal sense anyway, she does, nevertheless, have an impressive artistic history to boast in her own right. Some of the freelance clients she has worked with in the past include:
YAMATO Transport Inc. (A Japanese-American courier company)
KMart
Sears Holdings
Jay Franco and Sons
Gravity Bread
She has also collaborated with Rebecca Eisenberg and Mindy Winebrenner on the popular children's book 'The Monkey Balloon' which was published in 2014.
Influences and Education
Artist Yuki Osada is eclectic with her influences, taking inspiration from a wide range of sources.
Yuki Osada influences, according to her, include:
- French artist Renoir
- Parisian writer Marcel Proust
- Japanese anime and manga
- German expressionism
Although you may be able to pick out a few more obvious influences if you take a look at some of her prints, which you can find at Soicher Marin.
As well as benefiting from the exposure to some great influences, Yuki has also seen the benefit of an extensive artistic education, a brief summary of which you can find below:
Continuing Education Typography, Graphic Design, and Surface Design
The School of Visual Arts (2013)
Continuing Education Typography
Pratt Institute (2012)
CR Silkscreening for Surface Design
Fashion Institute of Technology (2011)
Credit Course Textiles
Fashion Institute of Technology (2010)
CE Licensing Design
School of Visual Arts (2008)
Awards and Achievements
Yuki Osada is the creator of several best-selling textile designs, which have been bought by a number of imminent organizations, including the following:
Meijer
The Children's Place
Bed, Bath and Beyond
KMart
Kohl's
Wal-Mart
Sears
She was also the illustrator of the popular book 'The Monkey Balloon,' which chronicles the adventures of a young girl, Mimi, and her father who set out to find her missing monkey balloon. Mimi and her dad are forced to use their imaginations to journey through the possibilities and what-ifs of what could have happened to her precious balloon until they ultimately find it once more. The book is very popular, and that is in no small part to artist Yuki Osada's amazingly vibrant and visually delightful illustrations which immediately draw you in and have you more invested than you ever thought you would or could be in the fictional search for a lost balloon. It is a testament to her artistic talent that you can genuinely imagine yourself on the journey with Mimi and her father.
As you can see, she has been a household name for a long time, despite so many people not really knowing who she is. Hopefully, that is something that will change as her works of art find their way into more art galleries, museums, and curated collections.
Some Highlights From Her Career Include:
Working with JCPenny's handbags team where she engaged in CAD work for and St. John's Bay and Liz Claiborne
Working for Sears as a handbag print designer
Creating children's bedding set designs for ROSS stores
Creating original prints, artwork, quilts, and bedding for NN Design&Color
As you can see, much of her work up until this point has been behind the scenes for corporate clients. In more recent times, she has taken a different approach, spending a lot more time building her own brand by creating a staggering number of high-quality art prints, which you can purchase from our licensed collection.
How much does her work cost?
Typically, Yuki's serious art prints, like the ones available at Soicher Marin, will cost you between $160 and $1,120 depending on whether you buy a single print or a collection, and the scope of the work. However, you can find many far more affordable versions of her print work at her Etsy store, where she has created a collection of affordable goodies featuring funny cats, feisty hedgehogs, her trademark greyhounds, and much more.
This means that Yuki Osada is probably one of the most accessible artists working at her level in her field of art right now. Most people could afford to invest in one or two of her pieces, and they would be an investment because she is one artist who is set to get more popular over time as more people are exposed to her work, and her artistic practice is even further refined.
What is she doing now?
Originally from New York, Yuki Osada is working as the head designer for Pep Rally Inc. in Florida. Pep Rally Inc. is a Tampa-based design studio that focuses on murals, installation art, and brand identity, so it's safe to say that Yuki fits right in with the team of artists who, like her, love taking their wildest, most creative ideas and turning them into physical form.
Of course, she's pretty busy in her spare time as well, which means you can always find her unique designs and prints like this pretty print or a cycling dog or this delightful cafe scene, to purchase online.
Apart from working at her day job, Yuki is also working on two books, and maintaining her own Etsy store, Miss Johnny Squirrel, which specializes in illustrated paper products as well as cards, totes, prints, and pillows.
Popular Yuki Osada Prints
Yuki Osada art is so beautiful, so vibrant and so simple that it is hard to pick out her best prints, but we're going to try anyway. Below you will find some of our favorite Yuki Osada artworks to date.
Lenny
Yuki Osada loves painting greyhound dogs as anyone who is familiar with her work will know. Fans will also know that her greyhounds are frequently French and always chicer than the chicest person you know. This art print, which features a stylish greyhound in his best French garb is a prime example of what Yuki is about as an artist. It's deceptively simple, effortlessly charming and so very chic. This greyhound is embracing his French roots, striped Breton shirt and all, and nothing is going to stop him from having a good time.
On a Date
On a Date is a simple black and white illustration of two greyhound mods posing on their scooter looking cooler than any dog has a right to look. If you want to sum Yuki up in one image, this would be the perfect print to start with.
Flamingo Bouquet
Flamingo Bouquet is full of frenetic flamingo action. Bold, bright, and a brilliant example of what can be achieved in a few simple squiggles, this pink and orange tangles of lines and color is one of those Giclee prints that once seen, you simply must own.
Reclining figure
This one is a little different from the average Yuki Osada artwork in that it's an illustration of a nude woman reclining, but it is every bit as impressive as her other works and shows just how well she is able to use lines and light in her work. It's one of her more expensive pieces, but the work that has gone into its creation is truly staggering.
Buy Yuki Osada Prints Today
If you want to know more about Yuki Osada and her work, take a look at the prints she has for sale right here at Soicher Marin. We've curated some of the finest examples of her work into one easily accessible collection, so whether you're new to Yuki Osada or a long-time fan you're sure to find something to pique your interest.
When you buy your Yuki Osada prints from Soicher and Eduardo, you can rest assured that you will receive the genuine article - a print created by Yuki Osada. Our company has been around since 1959 when Harry Soicher and Eduardo Marin embarked on their own personal artistic journey to start a company that put design excellence, quality, and artistic integrity at the heart of everything they did. They succeeded and over 60 years later, their company is still thriving. At Soicher Marin, we care about art, artists, and art lovers, which means that we will always offer the best handmade artworks at fair prices guaranteed.