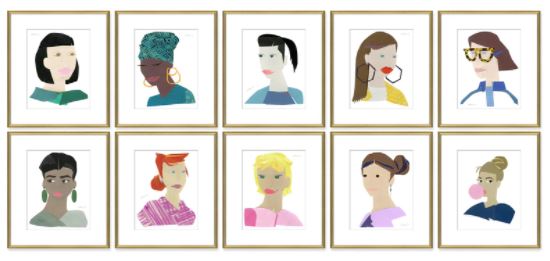 Susan Hable is an artist and designer based in Athens, Georgia. She is known for her bold and colorful works that range from canvas prints to sculptures. Along with her sister, she is a founder of interior design company, Hable Construction. Her unique blend of fine art and design has helped her to generate buzz in both the art world and the design world.
The following profile details her life, her works and her achievements. It also delves into her style and what makes it so unique.
Background
Susan Hable was born and raised in Corsicana, Texas - a small town located about 50 miles southeast of Dallas. Corsicana is known primarily as once being a significant oil drilling town, however it has an artsy side to it. In fact, the town has helped to spawn various notable figures within the arts over the years including watercolor artist Allyn Gordon and painter Martha Simkins.
It was in this small town that Susan developed her passion for art as a child. Her parents encouraged her to pursue her interest and begin studying art. With the help of two talented and local female artists in her hometown of Corsicana, she began to develop her skills. While exploring various mediums, she developed a particular interest in use of color (something that would become a prominent theme to her works later on).
Susan went on to attend college where she formally trained as a graphic designer with a minor in art. Her original goal had been to go to college in New York. After moving to the city, she wound up achieving her dream by studying at Parsons School of Design, where she focused on fashion accessory design. From here, she further broadened out her skills, exploring mixed media work with Fuji Studio and even studying jewelry design in Florence with Betony Vernon.
This broad mixture of skills and experience fueled her to set up her own business Hable Construction in 1999. The business was joint-founded with her sister Katharine Hable Sweeney - the pair have continued to run the business together ever since. Hable Construction allowed Susan to blend her love of fine art and graphic design, serving as an interior design company with an artisan twist. The company name was a tribute to Susan and Katharine's grandfather, who owned a business called Hable Construction back in the 70s.
Susan Hable has spent her life moving around America, enjoying a brief stint in San Francisco after college and moving back to New York to start her business. She has since settled in Athens where she resides now with her husband Pete and two kids
.
Notable achievements
Susan Hable has enjoyed a long career as a designer and artist. Her and her sister's company Hable Construction has grown from strength to strength. Meanwhile, Susan's recognition as an artist has grown over the years - with many of her works being sought after.
Other achievements include the decoration of her Victorian-style home in Athens, which has been featured in publications such as Atlanta Magazine. Susan is also the author of a book on color titled A Colorful Home: Create Lively Palettes For Every Room. Some of these achievements are detailed below.
Work with Hable Construction
Hable Construction was founded in 1999 by Susan and her sister Katharine. The surface interior company produces various artisan interior pieces including one-of-a-kind furniture and artwork. It's also a leading company within textile design.
Over the years, Hable construction has attracted a lot of attention in the design world. Susan's unique approach to design has led to collaborations with various other interior design companies and department stores. Some of these collaborations include:
Hickory Chair Furniture Co.
Neiman Marcus
Garnet Hill
Barneys New York
S Harris
Loomsource
Although she no longer works in the same studio with her sister, Susan remains heavily involved with Hable Construction and the company continues to attract new customers each year.
Her Georgia home
Several years ago, Susan and her husband Pete bought a home in Athens, Georgia. The early-20th-Century Victorian-Style home was originally intended as a second home and escape from their first home in the hustle-bustle of Manhattan. However, Susan and Pete become smitten with it and moved from New York to make it their sole residence.
Susan Hable took on the challenge of decorating the home herself, incorporating the bright colors and unusual textures that her artwork is known for. 'It's like Alice in Wonderland' Susan has described it. While adding some very eccentric details (such as mapped walls in the guest bathroom), Susan made sure to maintain the home's original character with the use of antiques and timeless patterns. The home's unique interior has attracted the attention of media outlets including Atlanta Magazine and Elle Decor.
Work with The Color Association of the United States
Over the years, Susan Hable has become quite an authority on color within America. Her knowledge and experience has helped her to become a committee member for the Color Association of the United States.
This aim of this committee is to forecast color trends and categorize colors within the United States. In relation to her work in the committee and her artwork overall, Susan has stated: 'Color forecasting is integral in any design business and brand-especially mine. It is so important as a guide for me and the meeting itself is wonderfully inspiring.'
Work as an author
Susan is the writer and illustrator of a book on color titled A Colorful Home: Create Lively Palettes For Every Room. The book offers interior design tips on how to use color within the home, drawing influence from her own artwork and from nature. It incorporates photographs of her Georgia home and her work.
Style and themes
Susan has developed a style that is very much her own. Salience and fluidity are two hallmarks of her works. Whether she's creating a watercolor painting or a pen and ink drawing, there is always a sense of bold energy to it in the thick lines and freehand curves.
Much of her work is themed around flora and plants. Susan has a love of gardening and takes inspiration from many of the natural forms of colors. Her works however are anything but still life paintings - they often have a semi-abstract quality that makes them feel as if they're bursting off the canvas.
Use of color is something that definitely stands out in her work. While many of her works are black and white, they often take the form of striking black silhouettes. Others are rainbow-like explosions of color in which bold primary colors are allowed to bleed into each other. And then there are pieces that stick to mainly one color such as blue, but manage to incorporate a spectrum of tones.
Susan has noted that her travels play a role in the inspiration behind her work. On top of spending time in Italy, she has traveled to Asia and South America. There is definitely an element to Susan Hable works that feels inspired by these exotic places around the world.
Her background in textiles has also helped her to shape her style. This is most obvious in her prints and collages, but there is also textile-like quality to many of her paintings. Susan has a clear eye for textures and many of her works can feel as if they're jumping off the canvas. Patterns are also incorporated into much of her work.
Susan Hable's sculptures are similarly bold and dramatic. While abstract in shape, they have a similarly natural fluidity to them. Despite her background in graphic design, rigid straight lines rarely show up in her works at all.
Notable works as an artist
Susan Hable's work has often blurred the line between fine art and design. Her work with Hable Construction initially helped her to gain recognition as an interior designer. However, in recent years she has gained more buzz as an independent artist.
Her work is now regularly displayed in galleries and exhibitions. Didi Durphy, curator for the Gallery of Hotel Indigo, was one of the first people to encourage her to exhibit her works - which led to some of these works being sold. Around the same time, Ron Fiore, creative director of Hickory Chair, also encouraged her to exhibit some works - some of her works were similarly sold on the spot with requests for commissions to follow.
A few of her notable works are listed below. Some of these works are still available for sale and can even be bought via Soicher Marin.
Joe Pye Weed
This large India ink on paper was described by Donna Mintz of Arts ATL as 'eye-popping'. It's a close-up view of a roadside perennial rendered in dramatic black and white. 'Joe Pye Weed' is an example of Susan Hable's ability to take simple and unassuming plants and make them stand out.
Strawberry Vine
According to Susan, this piece was inspired by 'twisted strawberry vines that our mother has dried for us over the years'. It incorporates an intriguing tone of cobalt blue. Two versions of Strawberry Vine can be found hanging in Draper James's Dallas and Nashville stores. Prints are also available for sale through Hable Construction's site.
Anemone
This striking pen and ink print consists of leaves painted in a wreath-like form. It's a great example of how simple but sophisticated Susan Hable's works can be. The piece uses similar tones of blue to give it a bold look.
Licensed works via Soicher Marin
Here at Soicher Marin, we sell a variety of licensed works by Susan Hable. Our featured collections show the true breadth and diversity of Susan Hable's talents. A few examples of works that are available to buy through our site include:
Portrait Series
Susan Hable's portrait series sees her venturing beyond the subject matter of plants. The series features a range of quirky character portraits. Each portrait starts with Susan hand painting paper and then cutting it into shape before assembling it. You can buy the entire portrait series or buy individual portraits. Each piece is made to order.
Still Life Series
Hable's still life series contains various collage works of objects such as lemons and figs.The works offer an exciting twist on traditional still life paintings - like her portrait series they are made from hand painted paper assembled into shape. This helps them to pop by adding extra texture and depth. It's possible to buy the entire series or to buy individual pieces from this series.
Dabs and Fringe Set
These two pieces see Susan Hable exploring various tones of blue in the form of patterned dabs and brush strokes. They are directly inspired by the dabs and brush strokes Susan uses when experimenting with color. You can buy the two pieces as a set or you can buy each one individually.
How much does her artwork cost?
Susan Hable's artwork varies in price. It depends very much on the size and medium - individual works from her portrait series can be bought for $280, while her large 43 X 53 Blossom works are for sale at $1,180. Many of Susan's pieces are available in sets - her entire portrait series including 10 pieces can be bought for $2800 for instance. All of Susan's works are made to order, giving each one its own authentic character.
Why buy Susan Hable's artwork?
Susan Hable's artwork is very vibrant and can bring energy to any space. Whether you're looking for something exciting to brighten up your home or something to liven up your workplace, Susan Hable's artwork is certain to be a focal point. Works such as her collages can also be excellent for creating a sense of depth. Her work is certain to appeal to those that are interested in natural themes, while also appealing to those that have a love of abstract art. You can take a look through our Susan Hable collection on our site to get a better feel for artwork and her style.