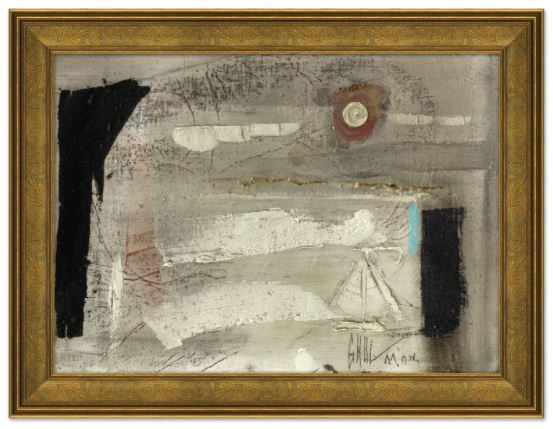 Graham Harmon was a prolific artist who lived between 1929 and 1999. He created over 5,000 different sketches and abstract paintings during his life and had an eye for the daring and unusual. This was how he was able to establish a name for himself, an impressive feat since his childhood had been a terribly disrupted one; his parents had both died by the time he was 16, but before this, he had been sent by his alcoholic father to live in rural Texas with his aunt, moving from New York which had been the only place he had ever know until then.
The sad fact is that Graham Harmon himself succumbed to alcoholism just like his father and died from this condition in 1999. Yet despite only being able to work for the middle part of his life, from 1947 until 1982, the work that he completed has always been adored.
The Medium
Graham Harmon's favored medium was acrylic. He was able to create abstract images that set off emotions in viewers and tell a story, no matter how difficult that story might have been to tell. As well as the conceptual work Harmon is most famous for, he also created landscapes and seascapes.
A brush might be the usual method of painting, something that a lot of artists are going to use instinctively, but, of course, Harmon thought beyond this. Limited as he might have been in his education and his time, his imagination was enormous, and he used it wisely. Brushes were useful to him, but so too were other materials such as wool, which he used to create the strange and unusual patterns, shapes, and textures in his work. It's an idea that many have tried since, to a greater or lesser sense of success, but Harmon was the one who took the idea to the next level and managed to create emotion and movement from an entirely natural source.
The Themes
No matter what subject matter he was sketching or painting, whether it was one of his more well-known abstract pieces or a seascape sketch, the same themes often came up. These themes were loneliness and abandonment, but also hope and joy. It would seem that Harmon's early life played a big part in his work and losing his parents was hard, but there was redemption in his aunt's love. Leaving New York was painful, but Texas welcomed him.
Each piece of work that Harmon created has an underlying feeling of movement, of tension, or energy, that makes the viewer excited and curious at once. This might come from the fact that, as much as he loved his art, Harmon had to work a variety of different jobs to pay the bills. The only time he was able to paint was at night, and so being fast and letting his emotions out was always necessary. For some less talented artists, this could result in a terrible result, but this was not so for Harmon; he was able to harness his feelings and create art that is loved to this day, despite his limitations.
Influences
Graham Harmon's most prolific period, the time before he became too unwell to continue his beautiful work, was between 1958 and 1972. It is during this time that his main influences can genuinely be seen in his work. They include Hans Hoffman, Robert Motherwell, Franz Kline, and Mark Rothko.
Although each of these artists worked in a different way, the sense of movement and balance, of power and destruction, yet the added peace that you can always find in Harmon's work, is certainly something that each of them would have appreciated.
Why Buy Graham Harmon's Work?
If you love Graham Harmon's particular aesthetic, you might be considering buying some of his art for your home; you can certainly do so at Soicher Marin, where there is a wide range of different pieces to choose from. But why would you want to? There are many reasons.
To begin with, art is meant to be a way to express yourself not just as an artist but as an art lover. If there is something, no matter what piece it might be or what medium it might be created in, or even no matter if anyone else you know loves it as much as you do (or at all), then you must have it. It has spoken to you, and when art speaks, it asks to be loved. You can use this art, art that you certainly do love, art by Graham Harmon, perhaps, to show others the real you. No words need to be said, no information given, and as soon as they see the piece you have bought and proudly display in your home, they will know so much more about you.
When it comes to Graham Harmon specifically, one of the biggest reasons – other than a love of the work – to buy his art is that it is growing in value. Harmon has finally been discovered, and anything you buy now is an investment in the future. Of course, nothing is guaranteed, but if the interest in Graham Harmon's work continues to rise in the way it has recently, your piece of his work could work out well for you.
Then there is the meaning behind each piece. Although we won't ever know quite what Harmon was thinking as he frantically created each canvas and sketched each idea, his work is so alive and fascinating that anyone looking at it will be able to discern something. Despite the abstract look of each piece, there is real meaning in each one. Once this meaning has been discovered and the magic unlocked, you will understand just a little more about the man himself. When you connect with a piece of art in the way that Graham Harmon clearly wanted his viewers to do, when you find the true meaning (at least in your own head), then it makes sense to own that piece of art.